A hard, sharp, angular line. It almost seems that the design process stopped for a moment before completing. But from this, precisely from this, comes the charm of Cybertruck.
Elon Musk, the 48-year-old entrepreneur and inventor said it would be "the coolest car ever". In any case, it certainly seems pulled out of a space-time cross between the multiple Blade Runner, Jules Verne's novels and some post-apocalyptic video-games like Hideo Kojima.
The seventh model of the house – after Model S, X, 3, Y, Semi and Roadster, let's keep them all inside – is a very muscular electric pick-up truck hat will arrive on the market in two years, in 2021. However, it is possible to pre-order now with just $100 or P5,000 as a deposit and in the end it will cost $39,900 or Php2,015,581 for the basic version.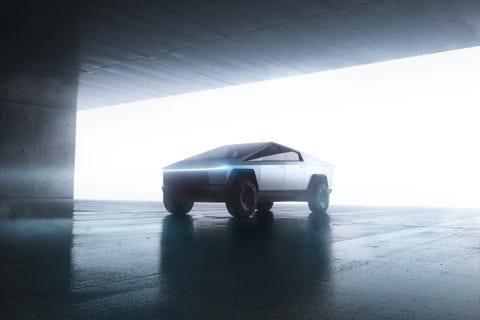 Tesla Cybertruck Price in the Philippines
SINGLE MOTOR RWD This price of the rear-wheel drive Single Motor Rwd version should be around $39,900 or Php2,015,581 which starts from 0 to 100 km / h in less than 6.5 seconds, reaches a maximum speed of 177 km / h and is able to tow more than 3,400 kg.
DUAL MOTOR AWD The second version proposed by Elon Musck is the Dual Motor AWD at the price of $49,900 or Php2,520,739 with all-wheel drive and with a larger battery, which allows it an extra range of 80 km. This version fires from 0-100 km / h in less than 4.5 seconds , reaching the maximum speed of 193 km / h , and has a trailer capacity of over 4,500 kg.
AWD TRI-MOTOR The top of the Tesla Cybertruck pickup is represented by the AWD Tri-motor model, which costs $69,900 or Php3,531,056 and has a range that exceeds 800 km and supercar performance in fact starts from 0-100 in about 2.9 seconds and is able to tow up to 6.3 tons .
The Cybertruck Battery Range
Tesla Cybertruck is an armored pick-up that can count on three different levels of power with one charge and on three different powertrain configurations also linked to 3 different battery capacities.
The first provides an electric unit only on the rear axle with the range of about 400 km , the second has a double engine, one per axle, all-wheel drive and range of about 483 km and finally the latest version includes a triple electric motor, the all-wheel drive and the range of about 804 km .
Battery Capacity
The battery of the Cybertruck Tesla can be recharged from the domestic sockets 220 volts or from the Supercharger stations that will soon be in the Philippines as well as third party charging company provider.
The battery capacity has not been declared but will certainly be greater than 100 kWh. Surely there will most likely be 3 different denominations for the three different autonomies announced.
Driving the Tesla Cybertruck pick-up on and off the road
On road and off road the Tesla Cybertruck pickup can count on air suspension which during loading operations can lower the vehicle by 10 cm in both directions). In total, up to 1,588 kg can be carried in the body, while the load capacity in the boot is 2,832 liters and can carry up to.
The pneumatic set-up also carries a compressor in the passenger compartment, which is powered by the power sockets on board. For off road driving the Cybertruck has a maximum ground clearance of 40.6 cm , an attack angle of 35 ° and an exit angle of 28.
From a technical point of view, the Tesla Cybertruck pick-up is built on an exoskeleton that supports the whole car, built in ultra- resistant steel also designed to resist scratches, dents and wear. As regards materials, Tesla has decided to replace the glass crystals with new Armor Glass windows , made of laminated glass with polymers that can better absorb impacts, ensuring greater durability and safety.