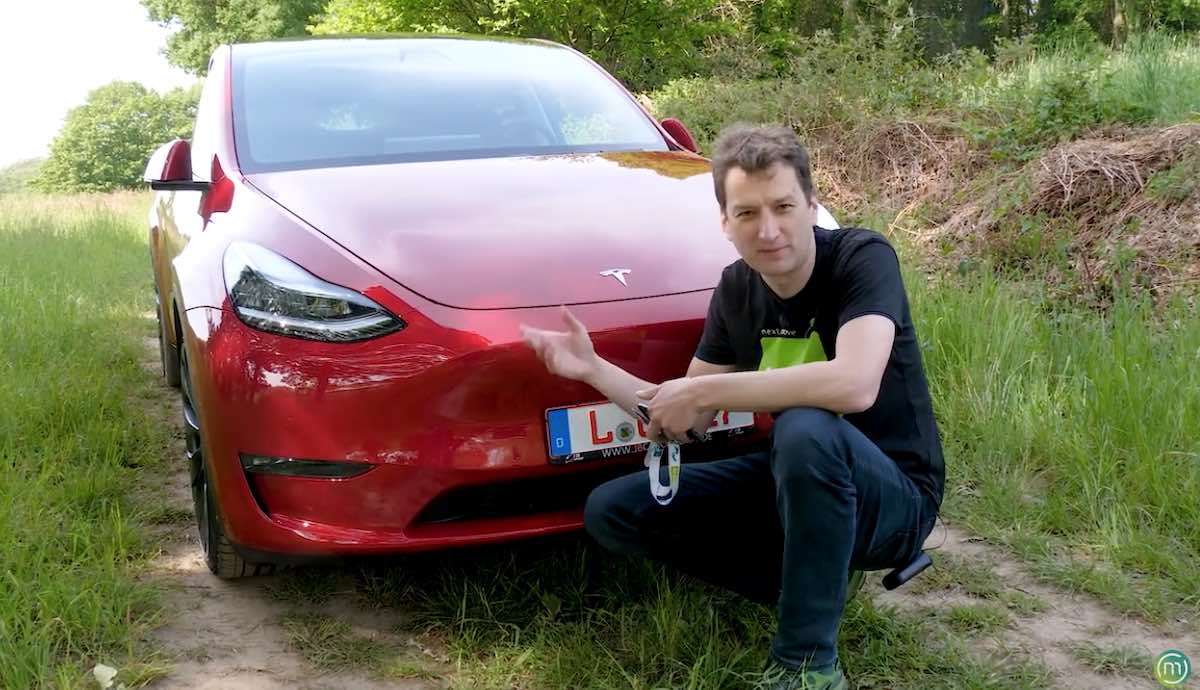 At least one and probably the first Tesla Model Y found its way to Germany less than two months after the start of delivery in the USA. This was demonstrated by the electric car rental company nextmove immediately after arriving three days ago and now submitted a longer video with the first trips in Tesla's new electric crossover. Managing director Stefan Moeller had previously had the opportunity to deal with Model Y for two days, as he reported teslamag.de exhausted on Wednesday.
Tesla goes to industrial customers
Nextmove is a pure electric car rental company with its headquarters in Leipzig, which had brought the Tesla Model 3 to Germany at its own expense at an early stage to present it to curious customers and then rent it out. The landlord, on the other hand, has only borrowed the Model Y, according to Moeller from an affiliate that specializes in US imports. In the next few days, the Tesla will go on loan to other customers, probably from the automotive industry, which, like with all new models, is interested in it.
Before that, however, Moeller was able to test the latest Tesla extensively – and you could say that the Model Y meets expectations in every respect, even in a negative one. The nextmove managing director is impressed by the driving performance in the video, although it could also help that the performance version is involved. He describes the chassis as sovereign and agile, but not bumpy, not even in a pothole, and less swaying than in the "thick ship" Model X. The Tesla Model Y also gets praise from Moeller for the space available at the rear own information is two meters tall.
However, those who had hoped that Tesla would have learned after four series launches with new electric cars or had become accustomed to delivering perfect workmanship will be disappointed – and those who have always found Tesla quality to be inadequate will find confirmation. Moeller shows a gap on the tailgate into which he can stick his finger, a slightly protruding spoiler lip and color deviations between the red sheet and plastic.
The first freeway test at 130 km / h is also proceeding as expected: the journey is stable and "not louder than in a Tesla Model 3", which is reportedly not too quiet. At 150, the wind "gets a little louder … well, gets louder," says Moeller carefully, as if he didn't want to step on the feet of any Tesla fan. But although some have considered him a enemy of Tesla since a public dispute over 100 Model 3 ordered six months ago and many videos with other electric cars , he is lenient: Model 3 was also a bit louder than the fit of the roof was not yet optimal, and Tesla probably has potential to "get the Model Y a little quieter".
"Tesla's blockbuster and world car"
The electric car expert sees plenty of market opportunities for the Tesla crossover . In Germany, the Model Y with a large battery and all-wheel drive with 59,600 euros would probably only cost 1,500 euros more than a corresponding Model 3, he explains. The direct comparison on the Tesla homepage could be misleading because the model 3 manufacturer's share of the environmental bonus had already been deducted. A variant of the Model Y with only rear-wheel drive and a smaller battery would "slide close to 40,000". "This will probably be Tesla's new box office hit and Tesla's world car," Moeller predicts with a determined look in the video.
For further testing including range and consumption, he refers to upcoming videos. Upon request from teslamag.de, he explained that the first Tesla Model Y in Germany or even Europe (there could have been other silent imports) could not be made available for a test of its own. He did not even want to give the name of the import partner – so that it would not be overrun by inquiries from private Tesla prospects.