Manila, Philippines – Tonight, Elon Musk plans to launch the next batch of satellites for his Starlink project.
SpaceX will launch another 60 Starlink satellites when it is 9:25 p.m. EDT or 9:25 a.m. Time in the Philippines. Interestingly, one of the units will have the new VisorSat design which will allow it reduce its reflectivity (at least theoretically) from the ground.
The launch can be followed live on Space.com as well as on the launch website or on the SpaceX YouTube channel.
After the launch of the Crew Dragon capsule (of 30 May 2020), SpaceX does not stop but this time it will be up to the Starlink communications satellites
The launch is expected from Space Launch Complex 40 (SLC-40) in Cape Canaveral with the first stage of Falcon 9 which has already been used, since 2018, for four other missions. Also this fifth time will try to recover the first stage by making it land on the drone-ship Just Read the Instructions (JRTI) after just under 9 minutes from the start. After 14 minutes, the satellites can be unhooked from the platform.
Will VisorSat manage to reduce the brightness of Starlink?
Of the 60 units of SpaceX Starlink provided, there will also be a model called VisorSat , which will allow (at least in theory) to reduce its brightness. This is a known problem with very unfavourable opinions from the scientific community all over the world and that Elon Musk is trying to solve.
As previously announced, VisorSat satellites will use a new design that should allow to reduce the light reflected from the satellite antenna area and therefore create fewer problems. It is basically a "sun blind" of a non-reflective orientable material that will be useful when the satellites are in the operating orbit.
However, it will not be the only strategy implemented by SpaceX for Starlink. In fact, the US company intends to try out new satellite structures during the orbital positioning phases which would reduce visibility during the orbit raise phase and in the parking orbit .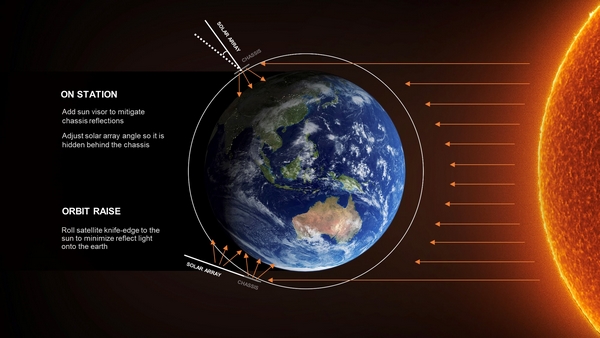 By orienting the Starlink satellites in such a way to be placed perpendicular to the sun's rays, this would reduce the visibility of the Starlinks satellites. This solution would be usable before positioning in the operational orbit. As explained by INAF, however, this solution could lead to some problems both as regards the correct positioning of the satellite and the correct ability to feed through the sun's rays. We still don't know if this idea will work properly, as well as that of "sun visors" , if so it could be a turning point for both SpaceX than for the scientific community (but also for simple citizens who want to observe the sky) without distractions.